2018 – A Vision of the Future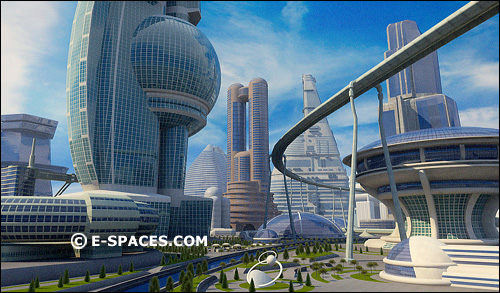 One rainy day earlier this summer, nGenera's Gov 2.0 Program Director, Dan Herman, locked three summer interns in a room (Ben and Jude, and I) and asked us to think about what life – and government – would be like ten years from now. One of the results was the following short story about a day in the life of a man named Donald, in the year 2018. Hope you enjoy.
7:00 AM. The alarm rang, and Donald pressed the confirm button to silence it. His bedroom monitor switched on and began playing his morning video feeds.
"Luke Smith," said the newscaster on the monitor, "who only yesterday controlled more proxy votes than any other advisor, has been reduced to irrelevance. Almost all of Smith's supporters abandoned him last night after he tried to use their proxy votes to pass a bill that would have allowed him to collect millions of dollars through a dummy public service provider." The country's voting platform gave all citizens the ability to vote on every bill. But many gave their votes by proxy to advisors.
"I wonder how Smith thought he could get away with it," thought Donald. Open Collaboration Platforms (OCP) were now mandatory for any agency that received government funds. They gave citizens access to all of an organization's internal activities, including documents and meeting. Not only had these allowed greater collaboration between governments, businesses, citizens, and civil society; they had greatly enhanced oversight, and made it difficult for anyone to get away with corruption.
After the newscast, an ad played. These ads helped pay for the other content Donald watched. His friend Ralph had forwarded this ad to him. "I just signed up. Its great," said a message from Ralph. The ad was for a new bank account from UniBank. It had low credit rates and high savings rates. Donald thought it sounded good, especially since profits were being used to support internet access for children in the developing world.
Donald decided to follow the link from the ad to the bank's website. He clicked on Open a New Account and was taken to the government's Central ID Management System (CIDMS). CIDMS linked all private and public sector databases that contain personal information, both to facilitate data sharing across databases, and to give individuals the ability to manage their privacy.
Donald confirmed that he would like to allow UniBank to create a record of him in their database. He then received a request from UniBank for access to his credit history. He allowed it. He was then asked if we would like to share his name and contact information with UniBank. Donald declined. Because all of his information is shared over the CIDMS, UniBank didn't need any personal information about Donald to confirm the information he had shared. Providing his name and contact information might have allowed them to give him a more personalized service, but Donald didn't trust them not to share his information with other companies.
After the account was setup, Donald electronically transferred all of his money and information from his old bank account. He saw that he had a bill from the Hospital of New Delhi. Donald was getting surgery there the following week. He was originally going to go to the local hospital, but there was less of a wait at New Delhi, and besides, it was supposed to be much better. The bill had already been automatically forwarded to, and paid by, the government's Health Fund. He had also just received his latest electronic paycheck. It outlined exactly where his taxes went: ten percent to education, five percent to the police …
Looking at the clock, Donald realized it was already 7:30. He had to get going. He rolled out of bed, got ready for work, and headed out the door, remembering to take the trash to the curb. In his car, Donald logged into the Car Pool System (CPS). People who wanted a ride could enter a request into the CPS. Car owners were then notified of people they could pickup along their route. In return, the car owner got paid a portion of each passenger's daily transit allowance.
One of the passengers Donald picked up that morning was Sarah Johnson, the president of the neighborhood council. The council had been formed early in the year, when over half of the neighborhood agreed to create one in an e-vote. Neighborhood councils had authority to improve neighborhood roads and parks, put-up stop signs, and run community programs. In order to pay for their work, neighborhood councils were given money from the city on a per-capita basis.
"You guys really need to improve that park," Donald said, referring to the park across from his house.
"We're working on it. You should check out the design proposals on the OCP," said Sarah.
"I will."
After dropping off his passengers, Donald went to work at the city planning commission. He logged on to the commission's online planning map. In addition to displaying current and proposed by-laws, the map provided an interactive, 3D model of the city, including 3D mock-ups of current and proposed buildings. The map was available to all citizens, who could use it to comment on and suggest modifications to proposals.
The Transit Commission had recently uploaded plans for a new subway line. Emergency Services was concerned that the design would make their response difficult in the case of an emergency. They were using the platform to work with the transit commission to solve the problem.
At the same time, citizens had been asked to help design the outside of the new subway stations. Donald's job was to lead this group of volunteers, and make sure their design stayed within budget.
Before he left work for the day, Donald logged on to the central government's voter platform and reviewed a list of "upcoming votes and issues that may concern you." One of the big issues of the day was a bill to ban designer genes. It had actually been drafted by the janitor in Donald's office. Donald gave his votes by proxy to the New World Party. But the party had not made a decision on this bill. Donald voted against the ban, as the voting system had predicted based on his past voting history. This system of tracking voting behavior had previously suggested Donald transfer his proxy vote from the popular Conservative party to the niche New World party, which he had found was much more in line with his views. Donald donated his monthly allowance for political financing to the party so that it could grow, and garner more influence.
When Donald got home from work, he saw his garbage still sitting on the curb. Donald had switched to a new, environmentally conscious garbage company, but it never picked up his garbage. He logged into his garbage collection account, run by the city government, and switched back to his old company. Now his weekly garbage pickup allowance would be given to a company that actually did their job.
It was getting late, and Donald had a date that night. After a quick shower and a change of clothes, Donald hopped back in the car.
"Would you like to pickup passengers?" the CPS prompted him. Donald declined.
"Probably not the best way to impress the ladies," he said to himself.
7 Comments